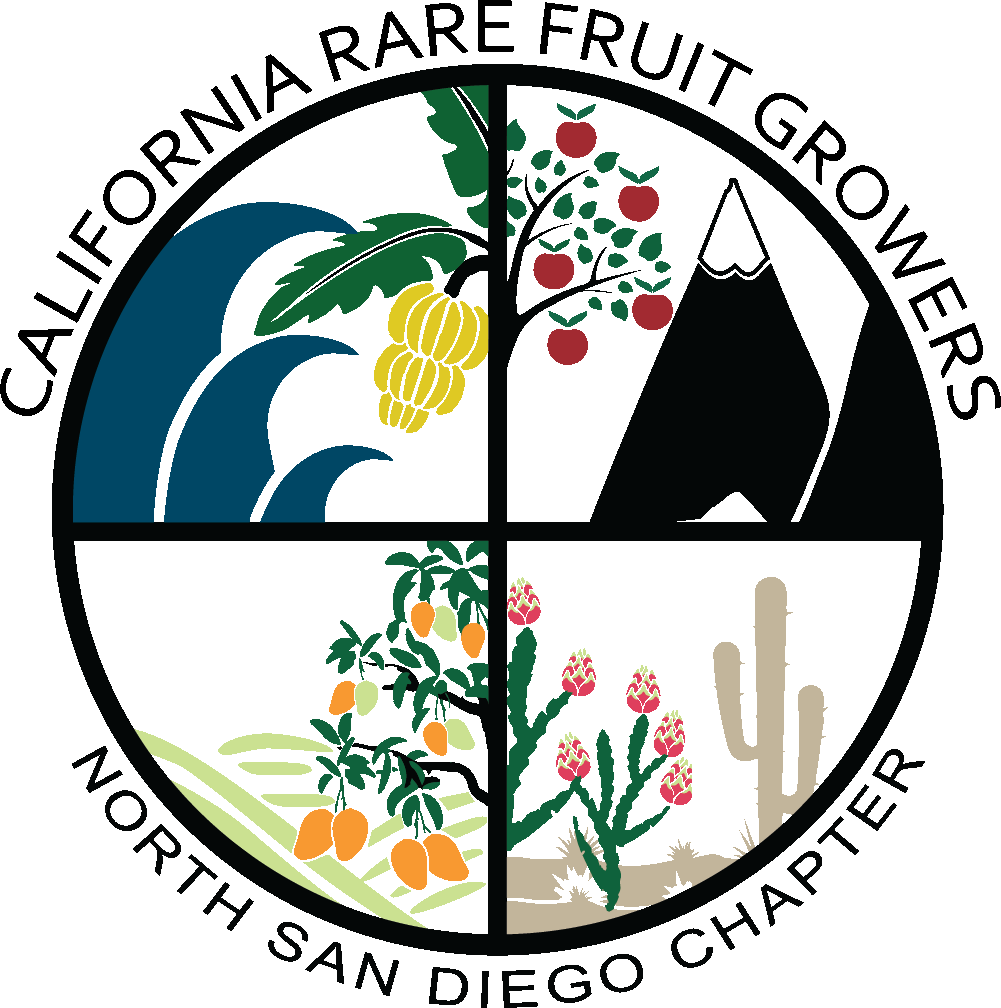 What We Offer/Why Join
Since a key component of our mission is to provide education about growing rare fruits, our Chapter meetings usually offer an expert speaker on a related topic. These programs are insightful about actual experiences and offer the opportunity to learn from experts as well as fellow members that often share their experiences.
Raffles and silent auctions at our Chapter meetings allow member attendees to almost always take home something – seedlings, scions, and potted fruit trees are normal options on the raffle table.
Annual membership includes Chapter Meeting programs, plant raffles, potluck events, opportunities for purchasing more mature trees through the silent auction and tastings of fruits in season at our meetings, as well as the ability to network and socialize with our member experts.
We support a local community college with annual donations (matched by CRFG, Inc.) to a selected student intern. We also attend local events where we may offer educational insights and sell plants that our members have cultivated.
How to Join
NORTH SAN DIEGO COUNTY CHAPTER MEMBERSHIP: Annual membership to the North San Diego County chapter is $10.00 per person, $5.00 for each additional family member (up to $20.00). Children under 18 are free. Dues are payable on January 1st for the membership period from January 1st to December 31st. New members joining in the 4th quarter receive the balance of that year free by paying the dues for the following year. Annual dues are always collected in January and are considered not paid by March 31. Those not paid will be removed from the chapter's email list.
To join or renew for the North County San Diego Chapter, you have a couple of options:
Click on the Membership Application button to download and print the application.

Bring your printed application to the next Chapter meeting, or mail it to:
CRFG Membership, P.O. Box 285, Cardiff, CA 92007-0285

OR

Fill out and submit the online form.

Pay dues via check (made out to NC CRFG) or bring cash to the next Chapter meeting.

You are welcome to attend a meeting to check it out before joining.
PARENT ORGANIZATION MEMBERSHIP: California Rare Fruit Growers (CRFG, Inc.) is the parent organization of the North San Diego County Chapter. Membership in the parent organization includes Fruit Gardener, a bimonthly magazine containing articles for the fruit growing enthusiast. You must join and maintain your membership in the parent organization in order to be a member of the local North San Diego County Chapter. To join the parent organization, please visit www.crfg.org or pick up an application form at any local chapter meeting. Memberships start at $29.00/year. Join CRFG online using PayPal here.
For any questions, please contact the Membership Committee Chair at membership@growrarefruit.org.
(Renewing? No need to apply again if your information hasn't changed. Just bring dues to the next meeting!)