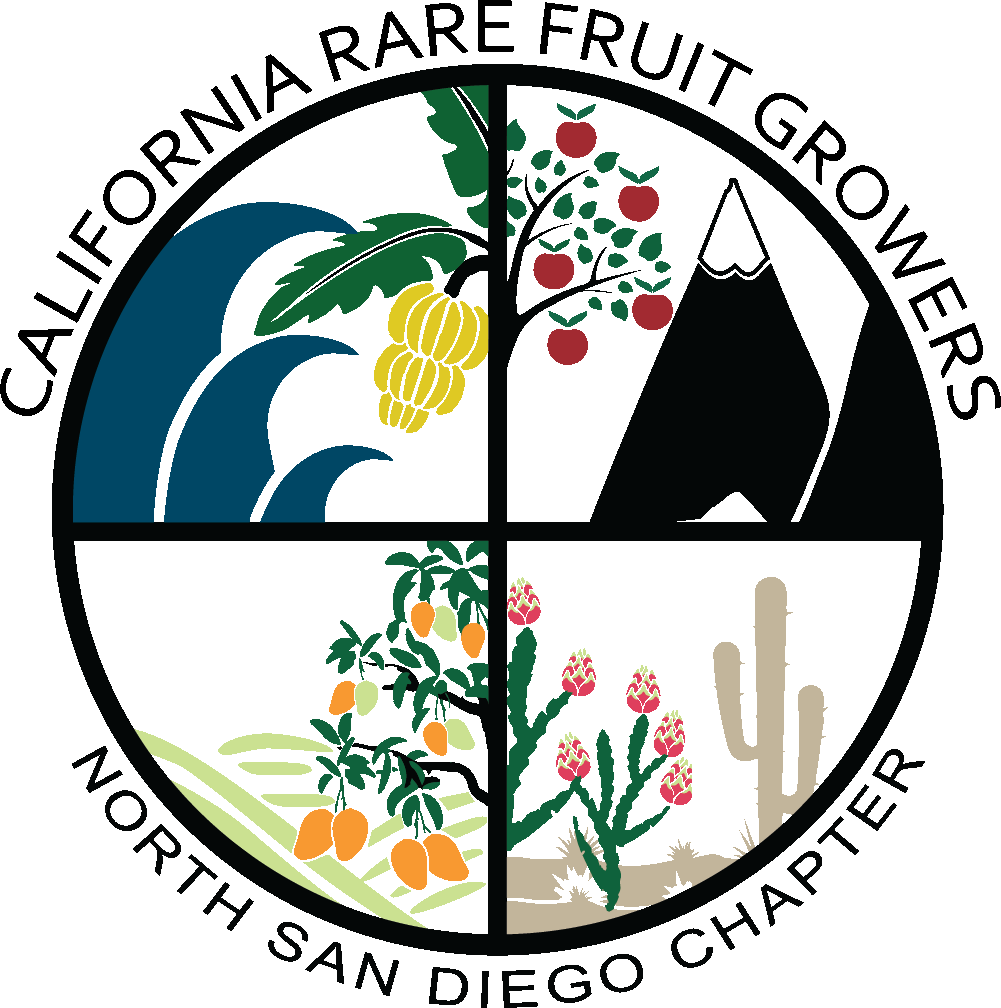 California Rare Fruit Growers
North San Diego County Chapter
Welcome to the North San Diego County Chapter of
California Rare Fruit Growers, Inc.
We are a place for like-minded people to share their passion and knowledge of growing rare and interesting fruiting plants, gardening experiences, and to learn from the experts about growing rare and subtropical fruits in our Southern California climate.
Our mission is to encourage and foster public and scientific interest, research, education in, and the preservation of rare fruit plants that have edible seeds, fruits, leaves, stems, or roots and are not commonly grown commercially.

Meeting Information:
Meetings are open to members and guests. Please check the events tab for current meeting details.
Chapter meetings are held the 4th Tuesday of most months, from 7:00 - 8:30pm. Expert speakers offer their knowledge of growing rare varieties of fruits, as well as advice on soil/water/pest management, among other things.

We meet at Norway Hall in Vista, at 2006 E Vista Way Vista, CA. Go through the gated driveway behind the Prohibition Brewery, and follow our signs.

Plant Sales:
We also have scheduled plant sales during the year where members have raised edible plants for sale to event attendees. There is usually a selection of grafted fruit trees, rootstock, seedlings, cuttings, vegetables, herbs, and harvested fruit. Watch the calendar for these events.
Social Media:
Our Facebook page has lots of member stories of what is happening in their gardens, information on the next chapter event, and we post other local gardening events and other CRFG Chapter events for those interested. Click on the "f" at the bottom of any page to access our Facebook presence.
The County of San Diego has detected the citrus disease Huanglongbing (HLB) in the Rancho Bernardo area of San Diego.
CDFA declared a 60-square-mile citrus quarantine area on February 3, 2023. Please visit the San Diego County government website or visit CaliforniaCitrusThreat.org to learn more.
What this means for us:
At this time, our Chapter's position is that citrus fruit, plants, leaves or foliage are not brought to any of our events, regardless of the location of the member's citrus fruit trees. View our one-page Information Sheet.