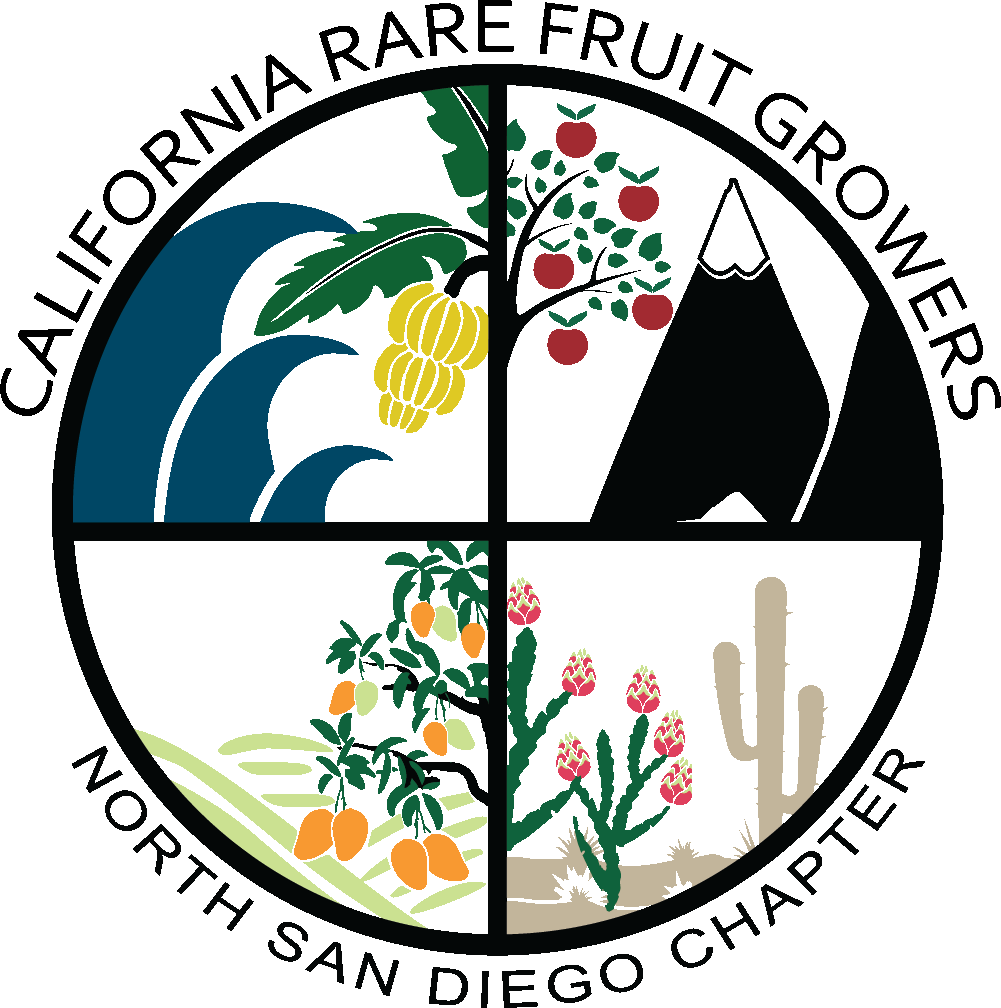 Chair: Marcia Faller. I am retired from a 30-year career as an executive in healthcare staffing. I have a BS degree in nursing from the University of Arizona a Master's degree and PhD in nursing from University of San Diego. My retirement allows me to enjoy my garden and orchard full time. A member of CRFG for only 3 years, my passions are vegetable gardening, soil improvement, rain water harvesting, and of course my fruit trees: mostly avocados and citrus, but also cherimoya, pomegranate, stone fruit, and apples/pears. I truly believe that gardening is one big experiment, at which I am sometimes successful; but ALWAYS learn something.
Co-Vice Chair: Kamilia Arakelian. I am an artist with over 25 years of experience in graphic design, cartoon coloring, and art teaching. In addition to running my own DIY workshop business, Sassy Craftz, I also homeschool my children. My family and I love spending time in nature, engaging in activities like traveling, camping, fishing, hunting, and more. One of my favorite hobbies is gardening, and I take great pride in tending to my 33 fruit trees, with plans to plant even more. I am super excited to be a part of the CRFG community and look forward to collaborating with other experts in the field.
Co-Vice Chair: Ming Dai. I have been an instructional designer for 26 years. Currently I am working remotely for Central Michigan University in Mount Pleasant, MI. I have a Ph.D. in Curriculum and Instruction and an M.S. in Educational Technology from Kansas State University, an M.A. in Education from Manchester University, and B.A. in English Literature from Yangzhou University. My husband and I love home-grown vegetables and fruits. We always have vegetable gardens in our back yard wherever we live. I love workouts, yoga, walking, biking, swimming, cooking, etc. I'm interested in learning more from CRGF members on how to grow fruit trees and how to resolve insect issues, both with fruits and vegetables.
Co-Secretary: Richard Mang. I have been a member of CRFG for 3 years. I live on the border of Vista and Oceanside. My involvement in plants and trees has been going on since as far back as I can remember. With the concerns for water use I have searched for plants and trees which do well on little water. This has led to my collection of olives, carob, macadamia and pomegranate. I enjoy being a part of the CRFG club, getting together with the members and sharing ideas. Hearing the stories of both what does not work and of the success found along the way. As this is a volunteer organization, I am inspired to contribute by being part of the board as Co-Secretary.
Treasurer: Tim Lovenberg. I am a retired scientist with a bachelors degree in chemistry from Dickinson College and a PhD in neuropharmacology from University of North Carolina at Chapel Hill. I did a postdoctoral fellowship at Scripps Research Institute. I enjoyed a 24-year career with Johnson & Johnson (Janssen Research & Development). I am a passionate gardener and all around hobbyist. I have a boat and love to offshore fish and whale/dolphin watch. I am a home brewer of fine beers and decent wines. I am currently learning 3D printing and CAD drawing. I am also a passionate cook. I also love to build things and fix things. I have a beautiful wife Elizabeth who is also a passionate gardener and member of CRFG and great real estate agent. I have two beautiful daughters 25 and 22 who are wonderful people. I love the outdoors and hiking and biking and camping and just enjoy the splendor of nature and I love to grow things (I have a 2 greenhouses and a large vegetable garden and a small orchard right here in coastal Cardiff).
Member at Large: Tom Sullivan I moved to Gird Valley (bordering the eastern edge of Fallbrook) from Santa Monica in 2017. Originally from New England, I earned a Ph.D. in Computational Statistics. I was formerly a RAND Corporation information scientist, a college professor, and worked for the US Government in the Washington DC area, the Middle East, and Horn of Africa. I am on the board of directors for the Fallbrook Historical Society and curator of their agricultural collection. I have been gradually building a fruit garden that started with a single fig tree and now includes various berries, dragon fruit, passion fruit, grapes, pomegranate, sapote, and citrus.
Co-Secretary: Carolee Eubanks. I have lived in San Marcos for about 25 years now on mostly wild acreage. We got the bug last year to plant a few fruit trees, and now we have the start of a mini-orchard. We're experimenting with rare fruits of all kinds. I have an MBA in international business, and my career background is in writing and editing, primarily for defense contractors. I currently create content for a company (TMBC) that helps other organizations boost their employees' engagement.
Member at Large: Greg Trigeiro. My wife, Christine, and I moved to Vista in 2019. We have half an acre that came with many fruit trees. Out of the nearly 22 different varieties of trees, there were at least 8 that I had never heard of, such as Lychee, Star Fruit and Longan fruit tree. Over time, we have added some varieties, including different kinds of avocado, a mulberry and a walnut tree. We now have about 40 different trees in total. Later in 2019, we became members of the CRFG to learn more and meet people with the same interest and passion in growing unusual fruits and vegetables. I am looking forward to helping out and being an active board member representing the membership.
Past Chair: Dawne Dickinson. I am a retired homeowner and have lived in Carlsbad for over 30 years. I have a BS in Biology started at SUNY and finished at SDSU. I have been a member of NC CRFG for many years, Membership Chair for 3, Member At Large for 1, Vice Chair for 2 and Chair for 2. I trained as a Docent at the SD Botanic Gardens and take gardening classes at all the local nurseries to keep learning. My small home garden is full of fruit trees and vines (more than 40), herbs, veggies, natives, succulents and cacti. My daily meditation is walking the garden, picking weeds, snails, or trimming overgrown vegetation. I love inviting the birds and pollinators in with flowers that bloom most of the year, such as lavender, rosemary, yarrow, and bulbs that come up throughout the seasons for color.